At its heart, Socibowl is three separate spaces (Four if you include the incredible outdoor patio!)
+ A full-service restaurant ready to fill your glass and belly +
+ A duckpin bowling alley where your inner kid can escape +
+ An indoor beer garden with yard games, darts, and pinball +
This is the space we built for ourselves… but we'll share it with you!
Taking inspiration from Mid-Century Modern design (wonder why? click here!), our restaurant space welcomes all ages for a casual dining experience.  We've worked hard to ensure that there is an option from everyone in your party, and are proud to offer great food, beer, draft cocktails, and wine to fill your stomachs.
With many great restaurants in Downtown Muskegon, it's important to us that our offerings stand out – and we think you'll find that Chef's work stands on its own.  When it comes time to wash down your food, enjoy a draft beer made at our downtown production facility, draft cocktails crafted by our team on-site, Michigan cider, or one of our hand-selected wine offerings.
While you dine, enjoy your surroundings, from our custom art to our custom walnut and maple bar, with a design inspired by George Nelson and Ray & Charles Eames.
FOOD MENU
Our duckpin bowling alley, featuring six lanes of small balls and big fun, is ready to entertain everyone from couples to friend groups to families.  Whether you grab one lane – and make new friends with the bowlers at the next – or take up several lanes, this is the high-energy heart of Socibowl.  With games ranging from PinPix (put your picture up on the screen and see what happens next!) to more traditional ten-frame, there are plenty of options to keep the action going throughout your time in the bowling area.
We accept online lane reservations for small groups – for larger private events, please reach out to us here!
RESERVATIONS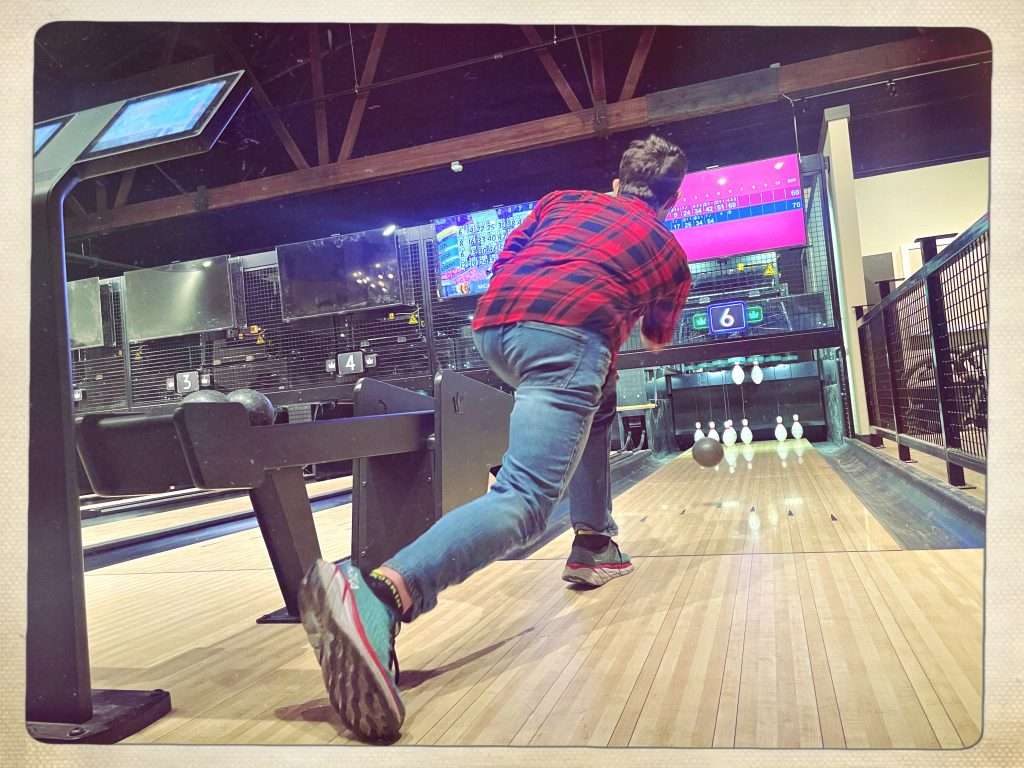 What do German beer hall tables, fake grass, hedge walls, darts, pinball, and oversized yard games have in common?
You can find all of them in Socibowl's indoor beergarden!  We've taken the best of the outdoors and combined it into a fun communal (and oh, so kitschy) space.  Always warm and safe from the snow, our beergarden is the most casual space at Socibowl.  Here, you can grab a beer and play some games while you wait for your tables or lanes.  Or, if you're like us – just head straight to the back and pass an evening enjoying pints and playtime with friends.
Joel, Chad, and Michael come from diverse backgrounds but we all share a common love: craft beer. 
As a Certified Public Accountant, Joel possesses an otherworldly understanding of excel spreadsheets and a keen eye for business.  Chad's years in lean manufacturing and design allow him to efficiently direct production, maximize space, and – most importantly – make excellent beer.  Michael, a "liquor lawyer" who loves playing in photoshop, navigates the bureaucratic red tape while guiding our sales and drawing pretty pictures.
From the beginning, our different personalities and skillsets began to meld through a shared passion for community and craft beer.  Over many nights spent building tables – with pints in hand – we formulated a vision of a company that embraced community and craft beer, all while building a space where misfits like us belong.  
We were just three regular guys with a dream.  That dream became Pigeon Hill.  Nine years later, we find ourself taking that dream to the next level with Socibowl.  From our first humble gathering space to a full-fledged entertainment complex, we remain devoted to great beer, our community, and crafting places where we can all do life, together.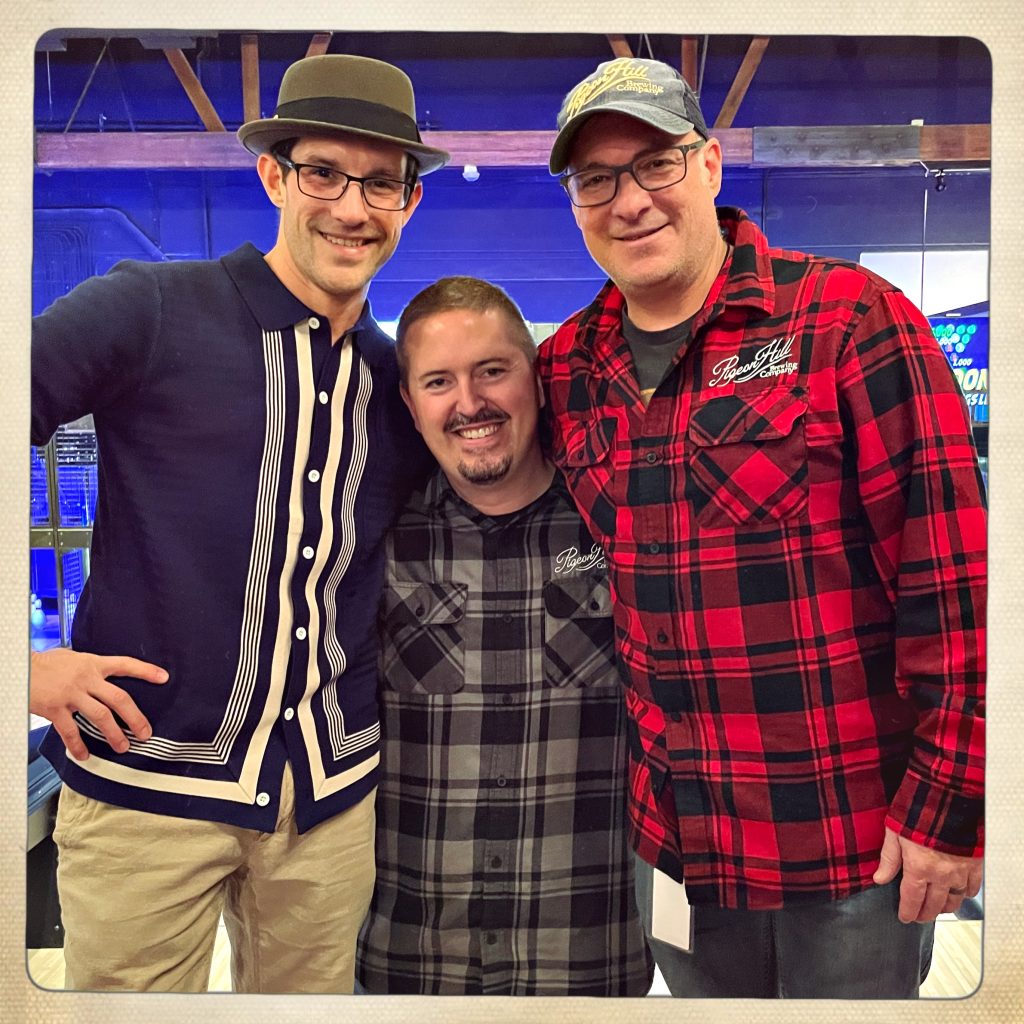 "I needed a piece of furniture, it was not there, so I designed it."
– Florence Knoll –
"Take your pleasure seriously."
– Ray and Charles Eames –
From the earliest days of Pigeon Hill, we've focused on creating spaces and brands that reflect both our own quirky misfit interests and history. Even though Socibowl feels entirely different, it was guided by those same principles: We craft spaces by taking inspiration from pieces of history that we admire, and we do it in a way that captures our quirky sense of fun.
Although Socibowl is a Pigeon Hill project, we felt compelled to craft a completely new experience – the beer, wine, and cocktails will still fuel the fun, and bringing people together is still the core of our mission – but here, we're taking the engagement up a notch.  Rather than surround you with memories, we've focused on creating a space that inspires you and your friends to create new memories.  From the bowling to the games to the indoor beergarden seating, Socibowl is about the name – being sociable, and creating new memories in the process.
With all of that in mind, we decided to move our normal style forward a few decades to an era that – while not without its faults – represented an incredibly fun, social time to seek out entertainment and define your own American dream. From downtown Muskegon's cafes and bowling alleys to the furniture factories across West Michigan that pumped out generation defining designs to the ad agencies in New York that still inspire TV shows today to the Tiki bars in Palm Springs – the sprawling mid-century era represents an era of hard work, hard play, beautiful design, and fun eclectic social atmospheres.  By blending mid-century design with modern twists and entertainment, we're hoping to meld the best of all worlds into a place that combines the mid-century's big city swing, California cool, and small town charm in a way that is comfortable and welcoming to everyone, no matter their age, interests, or background.
"The simple joy of taking an idea into one's own hands
and giving it proper form, that's exciting."
– George Nelson –
Unlike our other projects, where we've focused on creative reuse and highlighting artefacts, at Socibowl, we've built something new through the inspiration of the past.  Here, we are capturing an environment, a feeling, a mood – one that makes you simultaneously feel both relaxed and ready to stand up and make the most of a night out with friends.  This is no living museum – it's a space crafted to capture the cool essence of the era that literally introduced the idea of "cool" to our vocabularies.  And perhaps most fun of all – many of the designers who inspired us did so through the designs they created at and for West Michigan companies.
With three distinct spaces – ranging from a restaurant space clad in maple and walnut to a bowling space with bright colors and funky seats to an indoor beer and game garden with artificial turf and a hedge wall – capturing the many diverse influences of the mid-century era allowed us to design areas that were all different, yet flowed together in the same open space. And we found that to be beautiful – this era offered such a unique blend of class and kitschy cool that we could blend it with a modern spin and create something both fresh and comfortably classic.  We could create a concept that was neither fancy nor ordinary – neither hip nor stale – the kind of environment you walk into and immediately feel like you've found a place where you can take the night in whatever cool direction you're seeking.
"Make it simple, but significant."
– Don Draper –
"The details are not the details. They make the design."
– Charles Eames –
Mon: Closed
Tues, Weds & Thurs: 3pm to 10pm
Fri & Sat: 12pm to 11pm
Sun: 12pm to 8pm